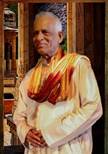 Swami Ram
(Apparswami Ramanathan)
Swami Ram (Apparswami Ramanathan), was born in a small village called Mahathanai in the parish of Tellippalai situated in the northern province of Sri Lanka on February 12, 1931. During his early years he had poor vision and at the age of 5 years was unable to read in school.  The school sent him to an eye specialist where he was diagnosed with a form of glaucoma. It was predicted that total blindness was to be expected within 2 years of that time. 
A yogi from the village of Suthumalai in Jaffna, popularly known as Sasthriya, was a friend of Swami Ram's father and a casual visitor to his home.  This yogi was told of Swami Ram's eye problem. For this, the yogi taught yoga exercises for the eye and also advised him to look at the rising sun from early morning, viewing through a ring leaf, blocking half the eyesight. Some additional exercises were prescribed to be done by the hand after the sun worship.  Swami Ram seriously followed the yogi's instructions and within 2 year time was able to continuously view the sun from sunrise up to 12 noon.  Thus, yoga life had already begun by the age of six. 
This gave Swami Ram his much needed vision. He studied easily after that, proceeding on to higher studies. However, he did not have the monetary resources to attend medical college.  So at the age of 20, he joined the government service and was employed in auditing for nearly 30 years.  During this period, he developed an interest in learning yoga through one professor Rao from Jullundur University, India through a correspondence course.  From this course he developed many powers.  He also studied Siddha medicine through the Siddha Medical Gurukulam of Madurai, India and became certified as a Siddha Maruthuva Pandit.  Armed with yoga and the Siddha medicines of natural herbs, he successfully cured many incurable sicknesses.  During this period he also developed an interest in the study of astrology, palmistry and the tantric system from which he derived enormous knowledge. 
Swami Ram had the opportunity of being initiated into Kriya Kundalini Yoga by Yogi S. A.A. Ramaiah when this yogi visited Sri Lanka in the year 1973.  This practice was performed to the letter and word advised by his guru to gain the powers of the yoga techniques.  This gave him much self-confidence and he continued the practice of Kriya Yoga and teaching yoga in various centers in Sri Lanka with the Babaji Yoga Sangam.
In 1982, he retired from the government service at the age of 50.  He subsequently practiced astrology, palmistry, and yoga therapy in many countries such as UK, Malaysia, Singapore, Canada, Australia, and New Zealand.  Many patients with terminal sicknesses have been cured all over the world.  
Since 1994, Swami Ram made Canada his home. He had established multiple yoga training centres and began teaching students who were keen in learning Kriya Yoga. The response was great and he established the Holistic Kriya Yoga Sang in 2003, which has become a main centre for his mission. The Sang is recognized by the Canadian government as a charitable organization. He established satellite centers in other countries as well – Switzerland, India, Dubai and Jaffa. He trained and initiated many students at these centres. Many of his disciples have reached significant mastery in the practice and use of Kriya Yoga.
Swami Ram undertook pilgrimages to India with his disciples several times and introduced them to Siddha Temples – Parankipettai Babaji Temple, Yogiar Samathi, Thiruvenni Sangamam, Kaasi, Badrinath and Babaji's cave – using the opportunity teach the Siddha Way of life.
In 2009, Swami Ram wrote the book titled "Holistic insight into Babaji's Kriya Yoga". It was released by Kalaimamani Suki Sivam in Canada and India.
On March 14th 2014, Swami Ram entered Mahasamadhi in Toronto, Canada